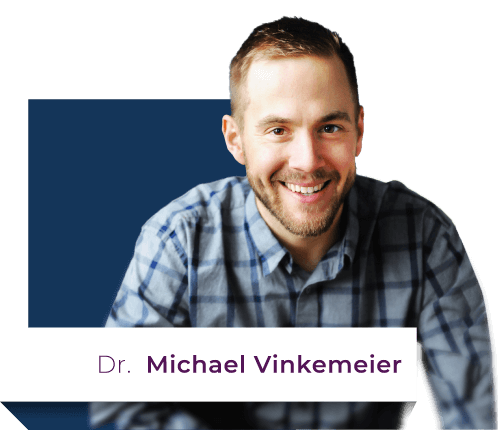 Meet Dr. Michael Vinkemeier
As a high school football player, Dr. Mike got hit in the low back. Because his back swelled up significantly, he went to see a doctor, who suggested he take acetaminophen. After two days, however, he was still hurting and not getting any better.
"That Friday, I decided to see a chiropractor. I was able to play in the next game and feel better." He continued to receive chiropractic care, which helped with other athletic injuries, such as a shoulder problem due to baseball. At the time, Dr. Mike didn't realize chiropractic could help with extremities.
The Appeal of Helping Others
Getting his patients out of pain so they can return to all of their favorite activities is highly gratifying to Dr. Mike. "I love to see people come back after a few visits and remark that they feel 10 times better!"
Obtaining a Chiropractic Education
After earning a Bachelor of Science in Kinesiology from the University of Minnesota, Dr. Mike obtained his Doctor of Chiropractic at Northwestern Health Sciences University in Bloomington, Minnesota. He also has training in Rocktape, which is used in the treatment and healing of a variety of sports injuries.
Enjoying an Active Life in Shakopee
When he's not at the practice, Dr. Mike enjoys spending time with his wife Angela and their two children: Margaret and Miles. He also likes being in the outdoors. His favorite activities are hunting, fishing and hiking.
Dr. Mike also stays active professionally as a member of the American Chiropractic Association and the Shakopee Chamber of Commerce.
Contact Strive 4 Health Chiropractic today to schedule an appointment with Dr. Mike!
---
Chiropractor Shakopee | (952) 405-0516